Lagos's slogan "Centre of Excellence" does not just reflect on the words but also on all activities. Hello guys, welcome to the little land of excellence, opportunities, population, and fun-filled centre. Despite being the smallest state in Nigeria, Lagos has proven to be the hub of happiness, fun, and progress. While some may believe that the hype on Lagos isn't worth it, I still believe Lagos is underrated. Yes, it is the home of hustlers but also it is a home endowed with fun and too many activities. While still on the fun aspect, do you wish to catch great fun in Beach Resorts in Lagos? then you are really lucky to be here.
Recently, I made a post on Top 10 Romantic Honeymoon Destinations in Nigeria just in case you may want to glance through that post and discover for yourself the beauty of Lagos. Yes, I wouldn't forget to let you know that Lagos occupied almost all mentioned resorts in the lists.
Lagos is seen as a paradise in Nigeria and saving grace to those who wish to have fun and cool their minds due to the everyday stress in Nigeria ranging from political stress to hustling stress, Beach Resorts in Lagos, seems to come to their rescue.
Great things come at a good price. With such luxuries, you don't expect relaxation there to be cheap. To have fun in Lagos, you have to be ready to spend, but trust me, every bit of time and dime spent at any of these Beach Resorts in Lagos is really worth it.
Well, Let's get back to business. What are the Top 10 Breathtaking Beach Resorts in Lagos Nigeria? Don't worry, I will not be making a long review on the Resorts in Lagos Nigeria. I will just give brief points about these Lagos resorts that might fascinate you as a fun lover.
Sir, Ma, please put on your seat belt, this would be an amazing long ride.
Top 12 Breathtaking Beach Resorts in Lagos Nigeria
Below are the Mind-blowing Resorts in Lagos Nigeria. If you are a person who loves fun, do well to visiting any of these places. You would be grateful you did.
1. La Campagne Tropicana Beach Resort
La Campagne Tropicana is a beautiful resort center situated at the coast of the Atlantic Ocean. The most fascinating thing about this resort is the beautifully well-arranged palm trees, sandy beachfront, very green beautiful lush lawns, and other eye-beholding calmness. The La Campagne Tropicana is truly far from the hustle in Lagos as it is a place meant for relaxation after a long day. Trust me, you should try this place out.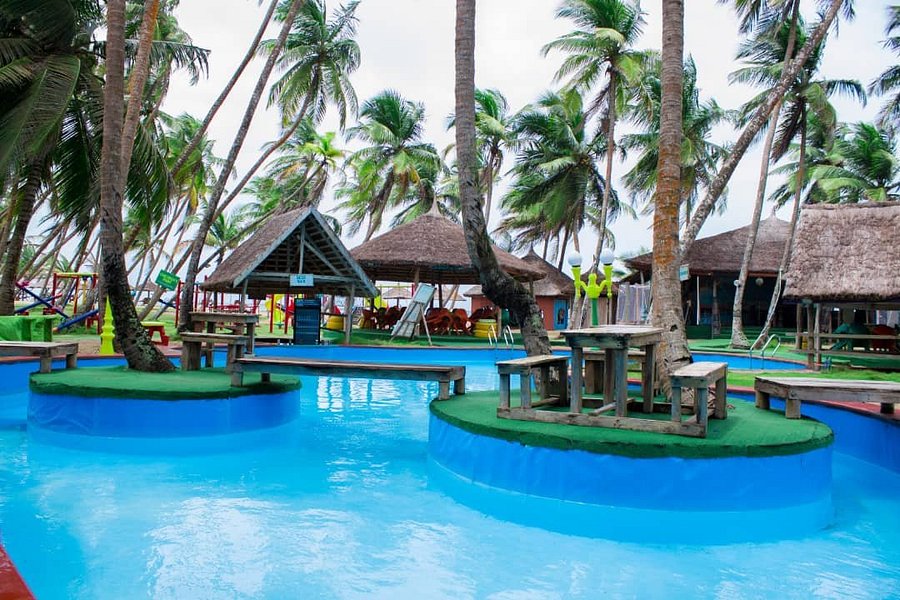 Location of La Campagne Tropicana
La Campagne Tropicana is situated in Ibeju-Lekki, Lagos. Go and explore this mind-blowing resort.
2. Atican Beach Resort:
The Atican beach resort is outstandingly beautiful and well-organized. You never might have seen a so clean chlorin-treated blue pool water and of course, the white sand making this resort a place for visitors attraction.
If you are based in Lagos and you need a place for relaxation, honeymoon, fun & enjoyment, then Atican beach resort seems to be a perfect place for you. Trust me, any dime you spend there would be worth it.
Location of Atican beach resort
Atican beach resort sits at Eti-Osa, Lekki. Go, have some fun.
3. Inagbe Grand Resort & Leisure In Lagos
One thing I so much love about Inagbe Grand Resort and Leisure is that it is pocket-friendly. There you get to experience lots of fun like Speed boat cruising, riding quad bikes, horse riding, and other memorable activities at an affordable rate. Not only did Inagbe made it to our list of Resorts in Lagos, but they are known for their excellent services. Like I said early about this resort in my previous post, it could make you think for some time that you are in Europe or one of these developed counties.
Where is Inagbe Grand Resort located?
Inagbe Grand Resort is situated at Oladimeji Alo Street, 13 Abimbola Okulaja Cl, Lekki Phase 1, Lagos.
4. La Casa Resorts
I remember the first day visiting La Casa Resort, It was a lifetime experience. If you are seeking a really cool place to explore, spend your vacation alone, go on retreat with your family, or go for a honeymoon, La Casa resort is always there for you.
La Casa resorts have well treated blue swimming pool, a nice and comfortable bedroom, and a well-cordinated bar where you could order for drink either alcohol or soft drink to pass some quiet time without disturbance.
Where is La Casa Resort Located
La Casa Resort is based in Amuwo Odofin, Lagos.
5. Eko Tourist beach resort
Though is a popular Resort and trust me, this is one place you might want to visit. After tedious work, work, work, you might want to clear your head, Eko Tourist beach resort which is also known as Akodo Beach is a place for you. Eko Tourist brings forth calming, serene and extra beautiful environment where nature becomes friends with you throughout your stay.
You could also visit the beach and order the sweet taste of their coconut juice. Trust me, this resort rocks.
Location of Eko Tourist beach resort
Eko Tourist beach resort is located at Kilometre 22, Lekki-Epe Expressway, Ibeju, Lekki, Akodo, Lagos.
6. Kamp Ikare Beach Resort
Are you looking for a place you could go for family camping, honeymoon, romantic getaway, then the modern touched Beautiful resort, Kamp Ikare Beach Resort is waiting for you. The resort is accessible only by boat and the clean swimming pool is just a few metres from the sea. Also, it has 6 duplex cabins just around the swimming pool.
What to do at Kamp Ikare Beach Resort
Eat their delicious dishes
Go on a jet-skiing adventure
Ride boat around  Ikare Island.
Engage in Volleyball
Relax at the sandy beach and feel the warmness of the sun
Swimming, and
Lodge
Where is Kamp Ikare Beach Resort Located?
The Kamp Ikare Beach Resort is situated at Located at the end of the Lekki-Epe Expressway. With a speedboat from Lagos mainland, it would take at least 45mins and 25mins from Victoria Island.
7. La Manga Beach Resort
Beach Resorts in Lagos State are really cool but If there is any resort I refer to as heaven on earth, that would be La Manga Beach Resort. Right in the Ilashe island of Lagos is La Manga nested with a breathtaking view of the Atlantic Ocean. A moment there would make you vibe to nature like the continuous sounds of a gentle breeze, clapping of the palms and waves of the beaches.
What to do at La Manga Beach Resort
Swimming
Get a barbeque at the poolside
Relax at the beach
Go for massage
Relax at rooftop jacuzzi
Other social events like Wedding, Business executive meetings, Friends get together, seminars and training can also be hosted there.
Where is La Manga Beach Resort located?
La Manga Beach Resort is situated at Amuwo Odofin, Ilashe Island
8. Epe Resorts & Spa
When it comes to hospitality, I give it to the staffs of Epe Resort & Spa. If you want to see a traditional and contemporary design style, Epe Resort and Spa got it all. The resort has forty (40) neat rooms in total, comfortable for the usability of their visitors.
When you think you have seen all kind of beauty in this world, then Epe Resort reminds you that you have seen nothing yet.
Where is Epe Resort and Spa Located
Epe Resort and Spa is located at Itoikin Road, Epe Lagos
9. Barracuda Beach Resort
Hey guys, do you need a fun-filled moment? then try Barracuda Beach Resort. Here you could feel the welcoming feeling of nature. The Barracuda Beach Resort is the best spot to bring your family and have great fun at leisure.
Go ahead in having fun like playing volleyball, pool game, party and other wonderful fun activities there.
Room Features at Barracuda Beach Resort
Rooms are safe
Telephone
Room service
Coffee Maker

Flatscreen TV

shower

Refrigerator
Where is Barracuda Beach Resort located?
Barracuda Beach Resort is located at Okun-Mapo Village, Off Ogombo Road, Off Abraham Adesanya roundabout, Ajah Lagos.
10. Tarkwa Bay Beach
If you stay in Lagos, then you must have heard of Tarkwa Bay. Tarkwa Bay beach is a popular man-made island with natural qualities. It has a nice whether when comparing them to other beaches in Lagos. The island has well-filled sand, all thanks to the connecting Atlantic Ocean close by.
Tarkwa Bay has very calm scenery and often less crowded. Are you looking for a peaceful, beautiful resort where you could relax and have a peaceful rest? Tarkwa Bay seems to be the best choice.
Where is Tarkwa Bay Located in Lagos
Tarkwa Bay Beach is situated in Fiki, Victoria Island.
Conclusion to the Best Beach Resorts in Lagos, Nigeria
These are the Top 10 Breathtaking Beach Resorts in Lagos Nigeria. If ever you wish to have fun, find any of these resorts and have fun-filled activities. Never hold back from enjoying your self and start living life to the fullest.