10 Best California Hot Springs
Nature is everything. There is nothing more amazing to a person when he finds a Massage parlor, warm hug, calmness, relaxation, and warm bath all in one place. This is what California Hot Springs has to offer. Instead of looking for a swimming pool to have a bath, visiting a massage parlor for an artificial massage, and by so doing spending much of your cash, why don't you give me the honor to introduce to you "California Hot Springs."
California Hot Springs is natural healing mineral water and a bath from it can is capable of cleansing your skin. Hot Springs resorts in California are sited in numerous cities which add to its collections of natural spas in the state.
Dues to the massive demand for hot springs in hotels, five-star luxury hotels like Fairmont Sonoma Mission Inn which is close to San Francisco had to establish their own hot spring where bathers can go soak themselves. So the choice is yours. You could choose a hot spring to soak yourself either in some of the five-star luxury hotels or you could go for the natural California Hot Springs fortified with minerals
Do you want to know more about natural Hot Springs in California? then you have to keep scrolling through.
Best hot springs in California
Below are the natural California Hot Springs you may love to go after reading through.
1. Desert Hot Springs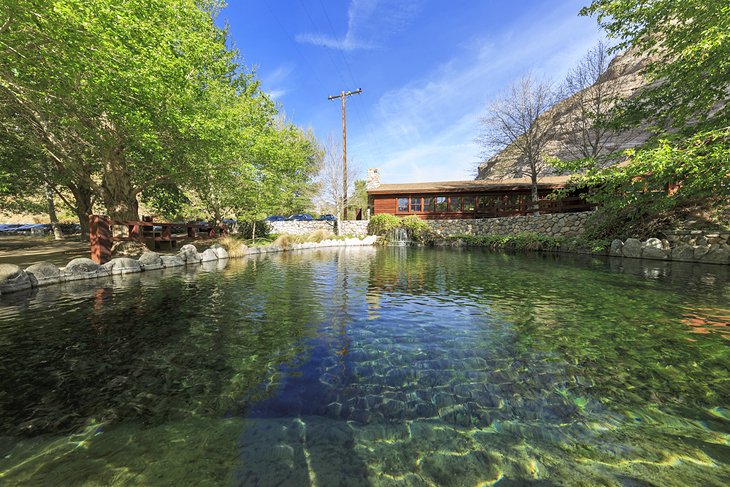 The Desert hot spring is located in the southern part of California which is about two hours east of Los Angeles. It is situated just after Palm Springs. At Desert hot spring, you are in for a very nice treat from nature. There are over 20 hot springs in desert hot springs making it the highest collection of hot springs in the United States. Visitors can visit the desert hot spring during the day or at night. Trust me, you have never seen such fun the desert hot spring has for its visitors before.  You've heard of Palm Springs, right? well, it is just 20 minutes drive from downtown
---
Read this article to know the cost of texas if you are planning on moving from California to Texas 
---
While some springs in the United States could be stinky due to the content of sulfur, the Desert Hot Springs is recognized for being odorless. The odorless mineral springs in that vicinity have cold and warm springs just as the visitors want them.
As a hot spring lover, you may want to do other activities like hiking and mountain biking trails, nearby is a Big Morongo Canyon Preserve with a large outdoor space for hiking. Also, you could locate Joshua Tree National Park which is about 30 minutes drive from the city.
2. Wilbur Hot Springs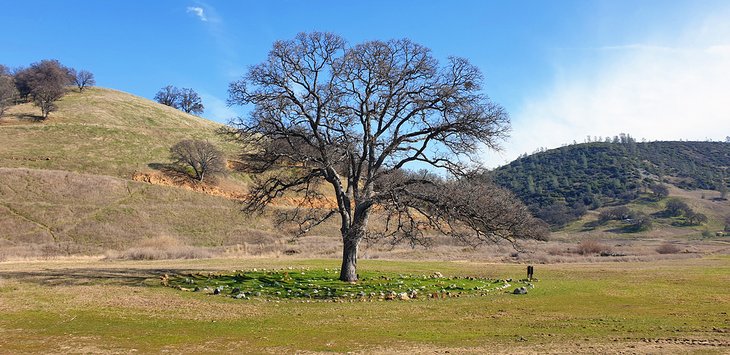 The Wilbur Hot Springs was opened in the late 19th century in Williams town which is about 90 minutes journey by car from Sacramento and about two (2) hours drive from San Francisco. Established in the 19th century, Wilbur Hot Springs is famous for its mineral Northern California hot springs resort drawn from solar power.
One good thing about the Wilbur Hot Springs is that it is optional to wear clothes or not while soaking yourself in the warm tub. In that same Wilbur Hot Springs, there is also a heated swimming pool plus a dry sauna.
It is rare to find so many activities going on in one place. Wilbur Hot Springs seeing that their guests may love other activities introduced Yoga Classes and guest chef appearances. The Hot spring has a number of epicures occasion also. Imagine the joy where you get a massage from the naturally warm mineral spring and still get a great massage from a human plus healing treatments.
Don't Miss: 7 Overnight Parking Near Me To Sleep On A Road Trip
The Wilbur Hot Springs has a lot to offer to its guest. In that same spring, there is an unaffected haven meant for spiritual and individual development, you may want to attend that too. Also, the Wilbur Hot Springs has made available mountain biking just in case you feel like going for a ride.
Visit their official website here: https://wilburhotsprings.com/
3. Sycamore Mineral Springs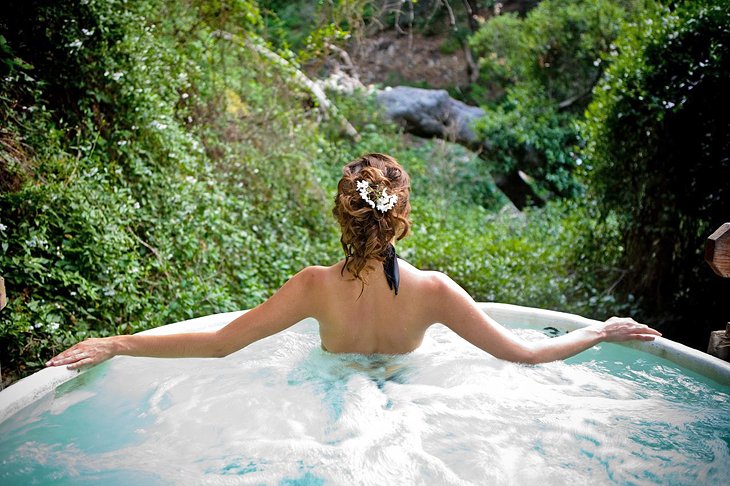 The Sycamore Mineral Springs Resort is located in Central California in the city of Avila Beach which is a 15-minute drive from San Luis Obispo off Highway 101. The beautiful resort has 72 rooms together with a three-bedroom casita and a balcony. This goes to say that if you book any of the rooms, you have the privilege to enjoy the hot tub bath. Do you wish to enjoy the beautiful scenic environment there? then the Sycamore Mineral Springs Resort has a land space of 100-acre therefore there are lots of green beautiful environment to view.
There are at least 23 outdoor hot tubs offered by Sycamore. The amazing thing about this outdoor Sycamore hot tub is that the mineral water is heated by nature couple with a lagoon-style pool with waterfall and spring-fed. You may also participate in the yoga activities in Sycamore Mineral Springs. This resort has so many things just to make their visitors more comfortable. for instance, aside from the yoga activity, they also do skin and beauty treatment there.
You may also want to visit their popular restaurant to have a taste of their well-seasoned local sauced meal, well, Gardens of Avila restaurant which is located inside the Sycamore resort never disappoint in such area. Their meals are really tasty.
4. Beverly Hot Springs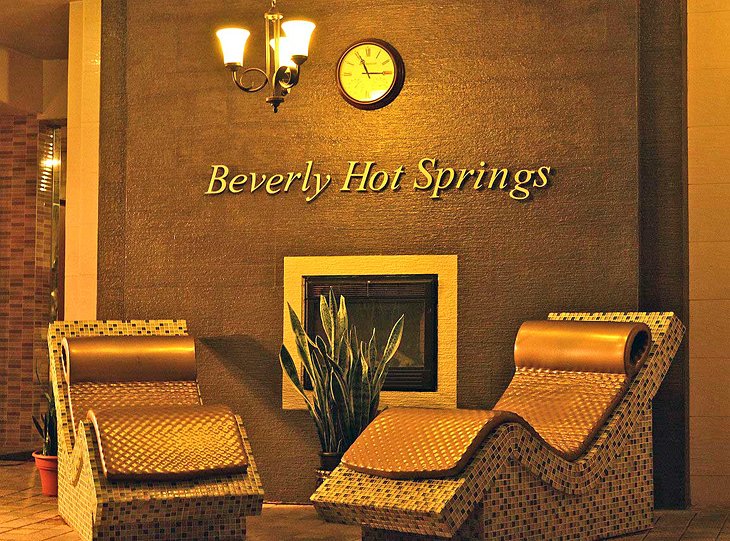 As you may have known, many of these natural hot springs are found in the oasis but little do you know that they could also be found in a populated area. Beverly Hot Springs is not only located in Southern California but also it could be found in the heart of the populated area of Los Angeles, Koreatown. It could be found just midway between downtown Los Angeles & Beverly Hills.
In the 20th century, Beverly Hot Springs was discovered during oil drilling and it was discovered that the alkaline water which is at 95 – 105 degrees Fahrenheit is rich in sodium bicarbonate. The spring is endowed with lots of minerals and compounds.
Apart from soaking yourself in the hot spring, the Beverly Hot Springs still does so treats like skin, and beauty care, and treatments plus massage. Have you ever been massaged with a heated bamboo stick before? well, you should try it out at Beverly Hot Springs.
Visit their official website here: http://beverlyhotsprings.com/
5. Calistoga hot springs resort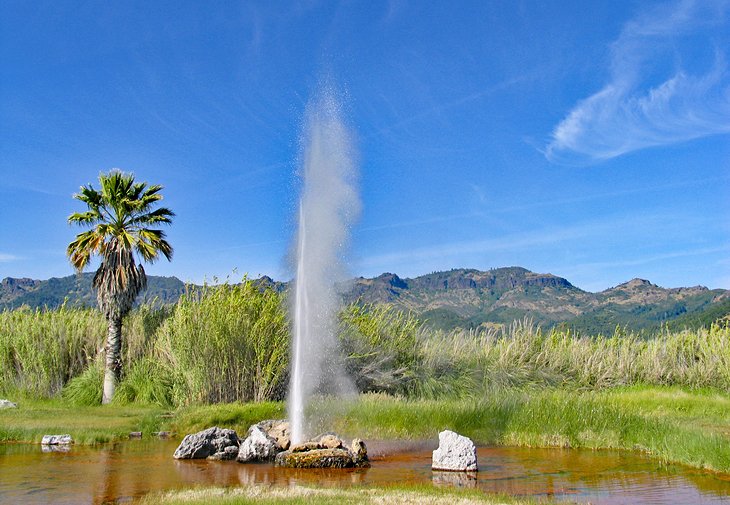 The Calistoga hot springs resort is situated in the northern part of California and it is very famous for Napa Valley which is a few hours' drive north of San Francisco. Calistoga city is known to be the city with the highest numbers of hot springs in Northern California.
In the city of Calistoga, you get to enjoy mud and a hot bath which no doubt is very popular here. The muddy soil in which you are having your bath is also rich in minerals just as the hot springs. You can select hotels in Calistoga and these hotels range in size and cost. You could go book from a small hotel which has its own hot spring to a five-star hotel. Unlike some hot springs in other cities, in many of Calistoga's springs, you can not pass a night there neither is there overnight quarters. You have to book from either a small hotel or from a five-star hotel.
You could also taste some of the delicious meals from the local fast food in Calistoga and trust me, your visit there will be fun-filled. Just so you may want to know, You could also see a geyser in Calistoga and it comes up every 40 minutes.
6. Grover Hot Springs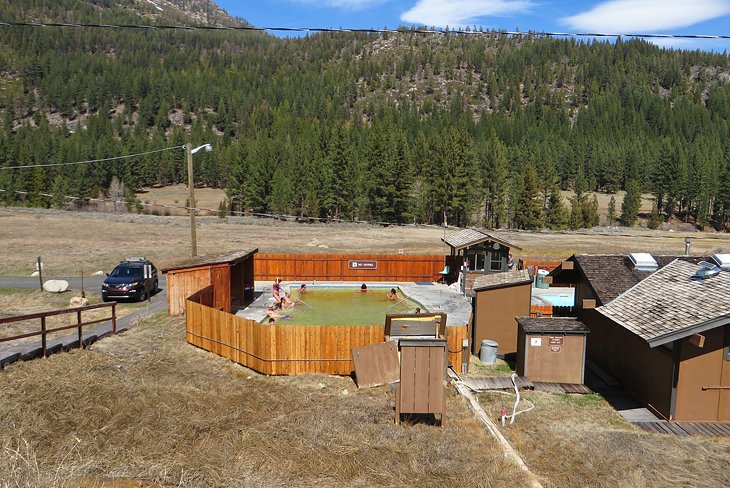 Hot springs in northern California are also a fragment of the Grover Springs State Park which sits at the High Sierra mountains and is very close to Lake Tahoe. The spring in Grover is very low in sulfur and the water is formed from six unconnected springs into two (2) pools. The Grover Springs is so special because these two pools are completely different. One of these pools can be hot at 64 degrees Celsius and no doubt, it is perfect to soak yourself to feel the hugs of nature while the other is cool which is meant for swimming.
In that same place, there is a state park together with miles of hiking. Did I also reveal to you that there are at least 100 campsites there? The pools are always opened but the little challenge is that the pool is not easily accessed during winter because of the heavy downpour of snow in the mountain. Frome Grover hot spring, you can also get to Reno and Sacramento because they are close.
7. Fairmont Sonoma Mission Inn & Spa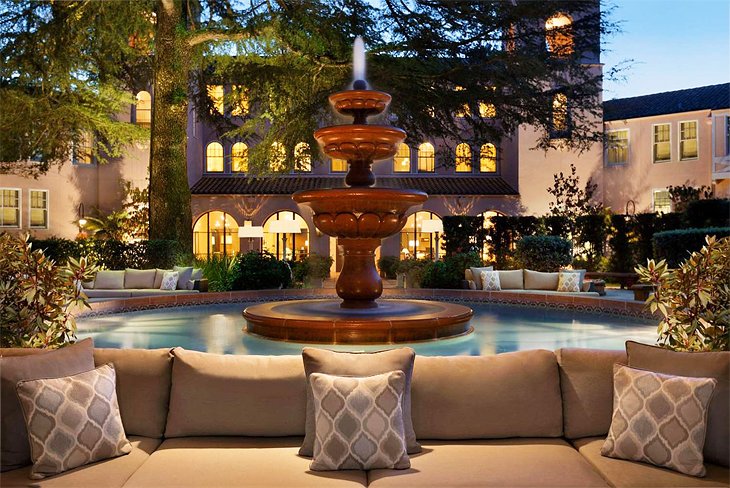 California's Napa Valley is just one valley away from beautiful Sonoma which is blessed with agriculture. Fairmont Sonoma Mission Inn is just an hour's drive to San Francisco and it so special because it has its own mineral spring. The hot spring is about 335 meters below the surface of the earth, and above this spring is a large luxury resort for the relaxation of guests.
Antiquity has it that the spring had been used but the local American tribes for thousands of years and now, the spring serves as a hot spring together with other pools.
The Willow Spring Spa is not free except you are getting some massage or beauty treatment then you are free to use the spring. The Willow Spring Spa accepts day visitors. Willow Spring Spa also does European bathing which is a popular bathing ritual influenced by traditional bathhouses which are being done in many countries too. The European bathing begins with an exfoliating shower after which you plus it with a warm therapeutic bath and then you soak yourself in a hot pool with a Jacuzzi jet, moving over to an immense shower, then you roll over to a herbal steam room, then to a traditional dry sauna and lastly, you go for relaxation after going through these adventures.
Just like other hot pools and spas, they also offer great massage, skin, and beauty treatments. have you heard of Watsu pool? well, the Watsu pool is a place where you receive a floating massage.
8. Sierra Hot Springs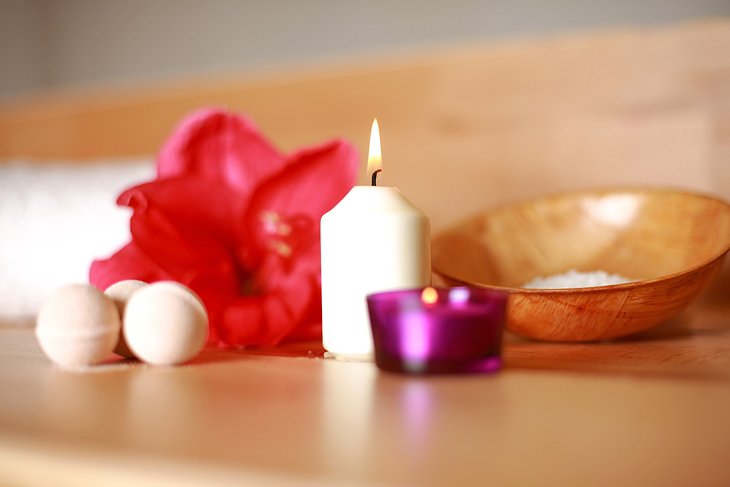 The Sierra Hot Springs Resort was discovered not for the purpose of profit but for spiritual wellness and healing focused. This wonderful hot spring resort is close to Lake Tahoe when coming from San Francisco, it is a four hours drive.
You can pass a night at the Sierra Hot Springs Resort where there are lots of camping sites, large suits, and lodge buildings, etc. There is also a historic hotel named the Globe Hotel where you can lodge and stay. The Globe Hotel in Sierraville is just a few minutes away.
Sierra Hot Springs Resort is not a place that closes, they are operational 24/7 neither is there a dull moment there. There is a massive hot pool couple with a huge sundeck. Also, there is a meditation pool outside and faux rock landscaping together with a sandy bottom. In these pools, you can decide to off your clothes before having a warm bath but in the resort area, it is not allowed.
In the Sierra Hot Springs Resort, there are lots of programs and lectures going on with lots of lecturers and practitioners on standby offering numerous seminars at the resorts. At the resorts, you can engage yourself in numerous programs and workshops.
Visit their official website here: http://www.sierrahotsprings.org
9. Vichy Springs Resort
The Vichy Springs Resort was first discovered in the mid-19th century. It is a fascinating beautiful area with a fascinating country inn boutique hotel and of course well organized hot spring resort. You can come just for a day and return home or there is an accommodation where visitors can stay overnight. Vichy Springs Resort is just 2 hours drive away from San Francisco and it is located in Ukiah.
ALSO SEE: 15 Sharks In Florida
In total, there is 14 mineral hot tub in Vichy with 4 hot tubs outside and 10 inside Vichy Springs Resort. Amongst its swimming pool, there are two types of swimming pools which include the hot mineral pool and the non-heated swimming pool.
If you want to go hiking, then the Vichy Springs Resort has got all it takes for a wonderful hike. This resort also provides a good Spa for great body massages and beauty treatment.
10. Esalen Hot Springs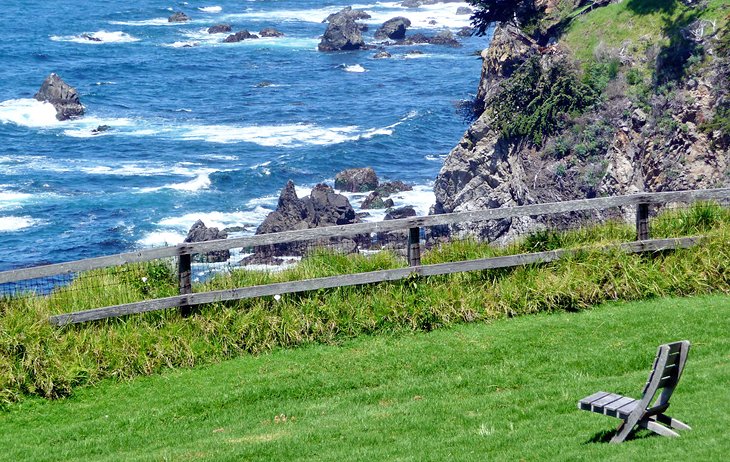 The Esalen hot springs have made it to our list of the Best California Hot Springs you may want to visit in California.
Do you want a hot spring in an unexplored seaside? then Esalen is the best place to be. Esalen Hot Springs is home to the mindblowing oceanside, cliffside, and a hot spring bath. One fascinating thing about the Esalen hot springs is that it was made in a unique way that allows the bather to watch the beauty of nature like the stars and the moon while taking a hot nice bath. The bath at the Esalen is for those who wish to enjoy the beauty of nature at night.
The Esalen hot spring is not free as you are free to book online from around 1 am to 3 am to enjoy the wonderful bath plus sighting the beauty of nature. Only those who booked into the Esalen hot spring can use them.
From the retreat lodge, the baths are below the hill and can be seen in numerous levels which would be explained below.
The baths are large and the massage are outdoor
There are antiquated claw toes meant for individual use only
There are different types of large baths which are located indoors and outdoors
The Esalen hot spring also made provision of restrooms
Also, there are places to take a shower, and
There is a changing room
History has it that the Native American tribes were previously using these tubs as a healing property. There is empirical evidence that proves that the Esalen hot spring which is abundant in minerals was being used by these American natives 6,00 years ago for the healing process and now, it has been modernized and still in use for the same healing properties.
You can visit their official website here: https://www.esalen.org/page/esalen-hot-springs